In the Footsteps of Jesus
An Alternative Tour to Palestine and Israel
Hosted by Jeff & Janet Wright
Tour Costs
The cost of the land package (based on a minimum of twenty person), $2,830, is inclusive of ground transportation in Israel and Palestine, double occupancy accommodations, tips, entrance fees, guides, breakfasts, lunches and dinners. Single supplement: $600. Cost of the land package for less than twenty: 18 registrants ($3,025). A deposit of $500 is required with trip registration. Final payment is due sixty days prior to departure.
Participants will book and pay for their own roundtrip air transportation from their originating cities to Tel Aviv. Those who wish to travel with the group will depart out of Newark to Tel Aviv on United Airlines. Contact us for flight information. We recommend not booking one's flight until it is announced that the trip is a "go". Others may want to make their arrangements on another airline. If your flight arrives more than an hour past the group's arrival time, there will be an extra charge (typically $130) to be picked up at the airport and brought to Bethlehem. Should you need help booking your ticket, please call us.
Participants are responsible for passport application fees, a single room supplement ($600 should you choose to room alone), travel insurance, bottled water and other beverages and souvenirs. Should a participant desire a roommate we will do our best to accommodate, but if there is not one available you will be responsible for paying the single supplement.
Partial refunds are available if, for health or another reason judged serious by the tour hosts and the Siraj Center, you must cancel.
Notes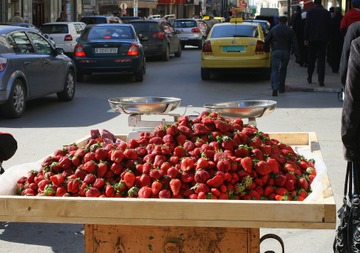 Persons who have health problems or trouble walking are discouraged from participating in this tour. The tour is physically demanding and, at times, requires strenuous walks over uneven surfaces. Persons 75 years and older will be asked to have their physician complete a form approving their travel.


Currently, roundtrip airfare from Newark is running around $1,400 for economy class. Again, participants are responsible for booking their own travel. With ample time to book, we will notify participants of the Newark departing and Tel Aviv departing flight numbers and times, for those who wish to travel with the group.


A Tour Tips & Info brochure (info about what to pack, food, money exchange, etc.), along with occasional Tour Updates, will be sent as participants register.


We strongly recommend that you consider purchasing trip insurance. While we don't recommend any particular company, we have found policies around $100/person that provide medical insurance, medical evacuation and trip interruption. Check with your own insurance carrier to discover what may be covered. A good comparative source for the various carriers is insuremytrip. If you are thinking about purchasing trip insurance, please read the plan's coverage carefully, including provisions for exclusions (such as travel to Palestine), limitations and the length of the period during which you are allowed to enroll after you complete your "In the Footsteps" trip registration.
Books
Introduce yourself to some of the issues we'll be exploring by reading Blood Brothers by Fr. Chacour, Faith in the Face of Empire by Rev. Dr. Mitri Raheb, Occupied with Nonviolence: A Palestinian Woman Speaks by Jean Zaru, and The General's Son by Miko Peled and/or The Lemon Tree by Sandy Tolan. Our trip preparation suggestion for first-time travelers to Palestine/Israel is Fr. Chacour's book.
For more information, you may contact the Wrights directly.
Itinerary
Register Now